FADS Friends & Associates of Danecourt School
FADS are a friendly group of parents, carers and friends who spend a few hours every term meeting up over a coffee to discuss the events we can do to help raise money to support the running costs of the school. This is also a great opportunity to meet other parents and carers with children at Danecourt School. If you are interested in getting involved with FADS then please come along to the next coffee morning and stay for the meeting. You will be surprised how much fun you can have.
Friends and Associates of Danecourt School welcome any donations that you could generously provide.
This would enable us to enhance the lives of children with complex needs and give them opportunities and facilities that they so richly deserve.
Donations can be made directly to the FADS bank account:
Friends and Associates of Danecourt School
Account Number: 41191543
Sort Code: 40-45-50
Look at these wonderful prizes which can be won in our FADS Easter raffle. Please complete your raffle tickets and return them to school by Wednesday 1st April. Please make payment for raffle tickets via Parent Pay.
FADS Meetings 2019/2020
Wednesday 2 October 2019
Wednesday 6 November 2019
Wednesday 27 November 2019
Thursday 16 January 2020
Wednesday 26 February 2020 (AGM meeting)
The new swing has now been installed and the children are queuing up to have a turn! This was bought using our FADS fund, so a big thank you to all of you who helped contribute to this.
Parent Support Groups
We are currently raising money to purchase a swing for the playing field and some more bikes for the children to play with.
We are currently building a sensory garden for all the children to enjoy.
Our FADS Quiz and Bingo night raised £194.10. Thank you to everyone that attended and donated money. We hope you all had as much fun as we did.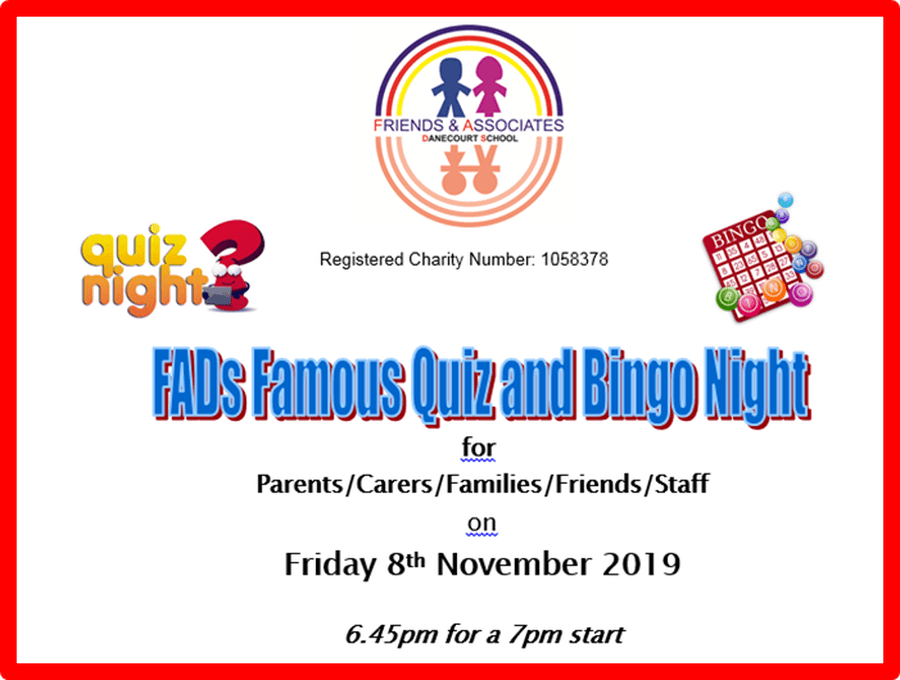 Here are some photos of our sensory garden so far.
Summer Fair 2019 - We raised a massive £1607 at this years summer fair.
We sold programmes with information about the fair to help raise money for the school. There was a BBQ, cake sale and candyfloss stand for everyone to enjoy. The children were able to try horse riding and hold various birds of prey. There were lots of fun things to join in with such as hook a duck and our raffle. Below are some photos showing how much fun we all had.
Minutes from FADS Meetings